Settings
In this section you can verify the Company Name you've used to create the 4Comply instance, as well as add a logo image and an email domain. The logo will be used in the emails and forms that will be sent to the Digital Citizens. Make sure that the logo is no larger than 200px wide.
Another important section here is where the Client ID and the Secret Key are located. These are extremely important when creating and performing API calls: they are need for them to work. Also, you have the option to refresh the Secret Key in case you feel that it has been misplaced or compromised.
Email domain
4Comply also has the option to send emails using your own domain. To accomplish it, you need to add your email domain in the requested section, and then you will need the help of a developer or System Administrator to add a CNAME record to your domain configuration.

Once you enter your company's domain, an information section would will appear below the Secret Key with the information needed to create the CNAME record. Once you add it to your Domain, the emails sent by 4Comply will use your email domain.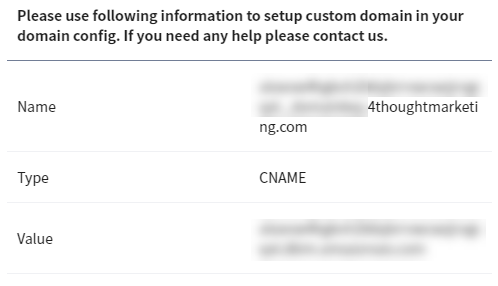 Email Templates
4Comply has an integrated email system that is used mostly in the Rights Processing. You can customize the copy of the emails to match your company's preferences. You will have a WYSIWYG editor to help you with the modifications. However, we recommend to only update the email copy, some structure changes might cause the email to behave incorrectly or not work at all.
These are the available emails:
RTA-Confirm Identity Email
RTA-Link to View Data Email
RTA-Cannot Locate Record Email
RTU-Confirm Identity Email
RTU-Link to Update Data Email
RTU-Success Update Data Email
RTU-Cannot Locate Record Email
RTP-Confirm Identity Email
RTP-Provide Link to Data Email
RTP-Cannot Locate Record Email
RTBF-Confirm Identity Email
RTBF-Cannot Locate Record Email
RTBF-Successful Removal of Data