Users
This section displays all users for your instance with options to add or modify information.

On this view, you can add a new user (1), delete a user (2), send an email to reset the password of a user (3) or update a user (4).
4Comply supports four user types: User Admin, Config Admin, Legal, and Basic.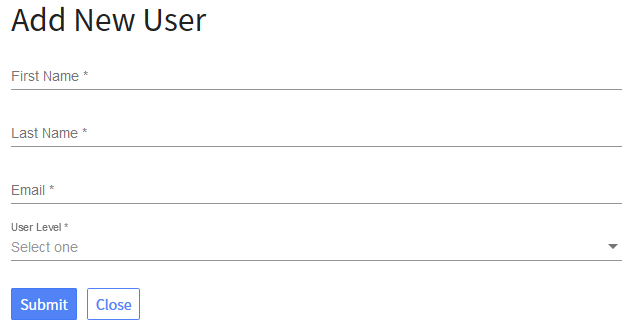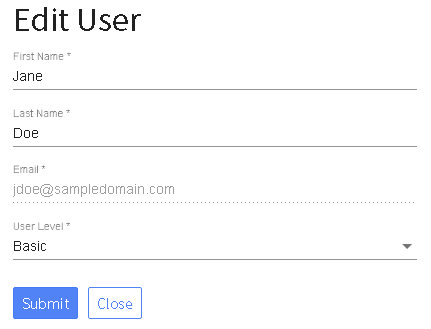 Admins can perform all the system activities, including adding, modifying, or removing other users. Admins can also view the Tenant ID and Secret key required to make API calls.
User Roles
4Comply offers four different user roles that can assigned to each user. The roles are:
User Admin: this role gives the user the ability to create, edit, and delete users and assign roles and reset passwords.
Config Admin: this role has access to read and write to all items, except the Forgotten Vault and the User Management sections.
Legal: users with this role have access to the Forgotten Vault only.
Basic: with this role, the user has access to all records except those in the Forgotten Vault. Basic users also have read-only access to the configuration sections, including the User Management section. Newly created users include the Basic role by default.
User Roles FAQs
When should the User Admin Role be assigned? This role is typically given only to a high level IT person, or in some cases even someone in the legal department. The User Admin role can assign and remove the Legal Role and thus access to the Forgotten Vault. Because a User Admin has access to sensitive information included in the Legal Role, only assign it to trusted users.
4Comply records all role changes in a log for additional security. If required, you can determine when changes are made, by whom and when. The User Admin should assign the Legal Role carefully and only with a written executive or legal authorization.
When should the Config Admin Role be assigned? Users that need to configure geographies, laws, defaults, and all other functions of 4Comply (except for users, roles, and access to the Forgotten Vault) should receive the Config Admin Role.
When should the Legal Role be assigned? To comply with the law, ONLY give your CLO or Data Privacy Officer the legal role because it includes access to the Forgotten Vault. Users assigned the Legal Role must have the training necessary to access the Forgotten Vault, and only with written executive authorization and to respond to legal inquiries.
When should the Basic Role (only) be assigned? All other users who will not administer, configure, or access the legal value should only include the Basic Role, which allows them to check on the status of privacy data but not configure anything in the system.